November 15th: The last day round in the BoulderRacing Series and an extremely hard course was the call for the day. My warm ups fired off some feelings that brought smiles. Things felt right and maybe as we near States and Nationals, things are coming around. Unbelievable with the lack of training! More importantly, today was a HUGE day as Brian Hludzinski input a Tots Race at High noon....with its course designed by none other than VeloNews' Matt Pacocha. My kids were PUMPED!
The course at the Lousiville Rec Center is known as a tough one. The entire course is woven around this giant bowl...literally it looks like a dried out man made reservoir of sorts. So Brian and Matt Pacocha decided to use as much of the property to ensure LOTS of elevation gain. Making it a very hard course. Combine this with extremely bumpy conditions and equipment had to be perfect for your day. Tire size and pressure was key. I ended up running my 34 Typhoon's at about 37-38 psi and it seemed perfect.
As I finished up my warm ups I look at my watch and see there's about 15 minutes before the start so I make my way over to the Start area....a SUPER long drag strip roughly a 1/4 mile of dirt road. There's already a scrum assembled and I see that call ups are already happening
g! I get there at the precise moment my name is called so I fall in. Everyone gets assembled and then we wait. I notice that the ACA official is someone I've never seen before. Finally, the course is clear and we're ready to go. He indicates out of the blue 30 seconds and everyone clicks in. "10 seconds" and before you know it 15 or so dudes on the front left just drill it BEFORE the official even says go! I yell at the official and he's like "I'm not callin' 'em back..." and so I just drill it to get in the Top 20 or so. I am furious.
The course opened up with said drag strip launch up and around the bowl and through a sand pit. It was mad congested so I see Timmy un-clip to run and I do likewise, we braaaap through the sand running passing what seemed like 5-7 people outright. After exiting the sand pit you are sent directly down hill....an extremely bumpy slog that at its bottom turns HARD right directly back up hill. I am flowing into the apex when I am bombarded by that same group we braaaped past in the sand pits and bumped into and through the course tape! Swoosh swoosh swoosh dudes are overtaking me and running up the hill in packs as I am yanking pulling are ripping my bike away from the tape and finally run up the hill. Back AGAIN in like the top 20! So now it is a game of 'pick 'em off'. I am a surly man at this point and lap after lap I ride consistently and smoothly focusing in on riders wheel. Head up, see it, bridge to it, over take it...next one. I claw my way back into 13th or so and on each lap I can see the leaders....Cariveau, WB, JJ, Jeff Wardell, Whit J....and it's virtually the same distance every time. Same exact place EVERY lap. It's a stalemate. I'll NEVER g
et up there today. So I settle in with two good buds and great racers, Stephen Oliver (Yeti-CoMotion) and Glen Light (Moots). We continue to beat the snot out of each other, all three of us dangling by this point in 9th, 10th, 11th. Timmy is just in front racing smoothly and consistently looking behind to judge where we are while eyes forward to see if he can pull forward. Everyone is flying today. everyone is balanced. If you were not in that initial punch after the 1st lap debacle, you were not at the super pointy end.
Lap after lap up the mountain bike style climbs and down the dodgy gnarled descents we all remained consistent...wheel's nearly rubbing we're right with each other. I'd attack a bit then Stephen and Glen would bridge back, then reverse. On it went like this. Super fun to say the least but I think all three of us wish we'd been able to make an earlier selection and stuck with it! We finished up the day in basically that order, Stephen 9 Glen 10 and me 11. Tough day at the office given the course and what everyone said was a really crappy start by the official. (Apparently every category had the same experience at the start...). JJ from Spike was on great form taking the W with my team mate Whit 2nd, Jon Cariveau and Mike Hogan rounded out the top 4.


With our race over, on came the kids! It was SWEET! There was a little course set up with obstacles, teeters ... a run up! (OK a slight incline...). The kids were out of their minds! Everyone got medals and my boys were stoked. My big man opened his 'W' account taking his first victory in a late race move....mostly motivated that he'd have a snack after the race and get back to playing Transformers. My little man came undone under the pressure of the fans and yard-saled his way around until I had to go rescue him. Bike racing. I digress. A fruit wrap and a hug remedied all that sadness.
Pictures of the kids event by Zach Lee can be found HERE.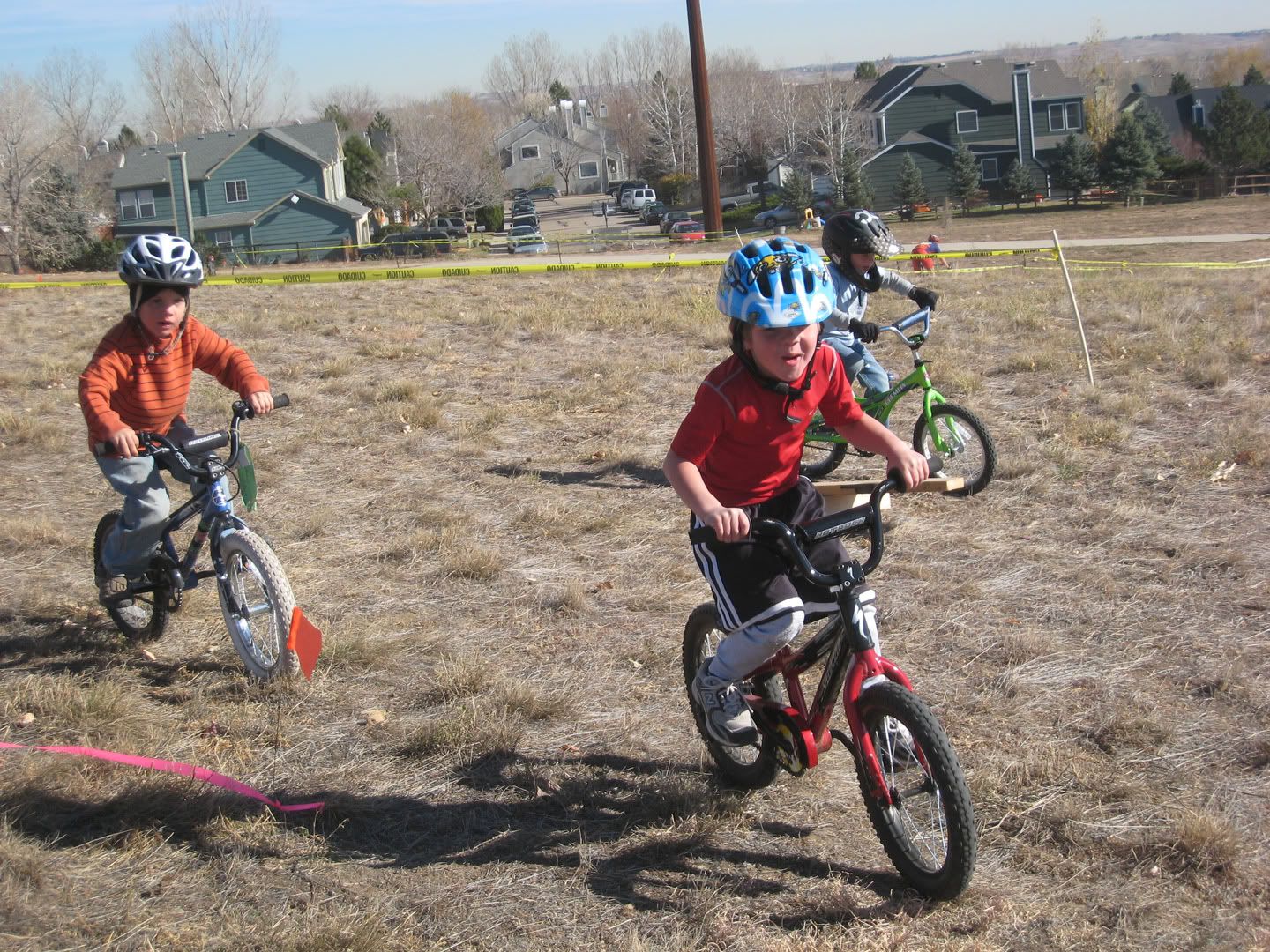 Beckham
Faia
ripping it off the front....
Monday, November 17, 2008 at 6:53AM
|
8 Comments