No, not the 'finest' from that far NorCal of, say, the Humboldt variant. No, I'm speaking about the finest of the ferrous and non-ferrous variant. Like you, I scoped out the article on Cycling News and was stoked to see Sycip getting some air coverage for their Diesel 1 x 1. Jeremy and Jay Sycip (say: SEE-sip not SIGH-sip) are brothers who have made the bicycle their "trade"...but not without wrapping the trade in a thick layer of gooey art that draws you into their product like a moth to a flame. A welding torch and the most insane paint jobs are their rough parallels to oil and canvas. Outside bicycles, if you get the chance, you should check out some of the custom designed furniture these guys produce. Sick.
I am totally biased here having been a Sycip owner since 2001. The first time I saw these guys was at the 1999 Super Cup/National Championships when we raced in the beautiful Presidio in
San Francisco (and we'll never be able to again. Long story...). I finished my race and walked past their hobble of a booth where they had like one bike on display. It was this sort of mint green and black thing I recall that shone like a beacon and it just drew me in. One side was the mint....the other was the black. Extremely unique paint job....which I would later find out is call their "split personality" paint scheme. I scoped out the bike and studied every detail form the paint to the over sized Columbus tubing used. Love. Or maybe lust. So I saved my pennies (it took me a
while as a struggling computer guy living in a 200 square ft apartment in SF at $1000 a month) and by 2001 I ordered my custom Sycip. I walked down to the piers in San Francisco on the Bay where they had their 'laboratory'. They fit me, asked me questions and we assembled a combination of Columbus tubing for the main triangles and Tange for the chain stays which were stiffer and made for track bikes....all designed to some how find a balance for a bike that I would use all around...from climbing to sprinting. They NAILED it. From crits to Colorado dirt road races (we do a LOT of those out here), the bike Jeremy and Jay made me is irreplaceable. I do not know how I will be able to sit on a 'new' frame and not be able to judge it against the Sycip. Having ridden steel, carbon fiber and titanium road bikes, the Columbus tubing just makes this bike feel perfect in and out of the saddle, at speed or on slow technical climbs.
Anyhoo, go talk to them if you are interested in a new frame. There's my plug.
The REAL intent of the story here is the NorCal builder's story...and to expose you to some rich history and some other builders from the Bay Area. All of these NorCal manufacturers have a very intertwined and incestuous ancestry. Obviously, this is a personal story of some 'connections' between builders connected to my life, but the NorCal builders 'history' is legendary and well documented already.
As you read in the Sycip Diesel article on CyclingNews, Jeremy Sycip apprenticed under my long time friend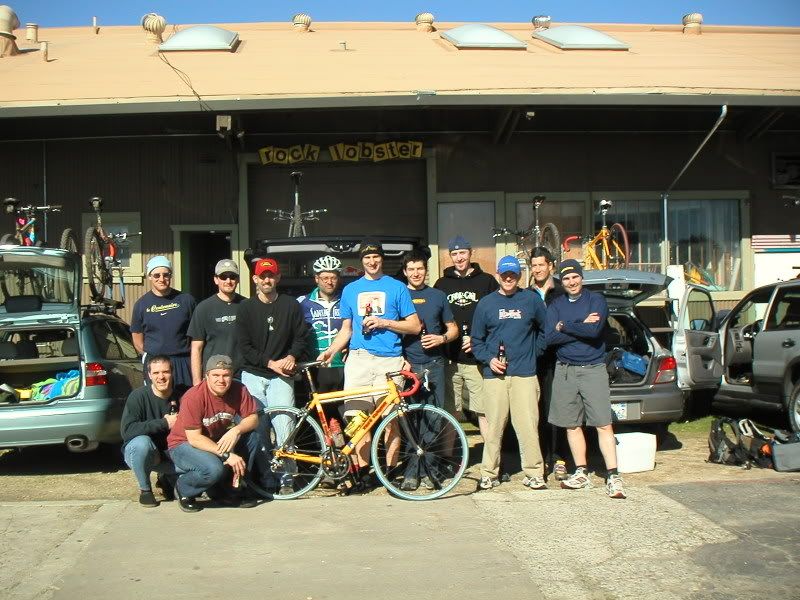 Paul Sadoff of Rock Lobster Cycles. It was there that Jeremy learned the ins-and-outs of welding frames and getting to know the characteristics of how various materials from steel to Aluminum, to Scandium to Titanium get 'glued' together. As you'll see, it seems like a LOT has been inspired from the hallowed halls of Paul's Rock Lobster 'laboratory' in Santa Cruz. Let's start there...
Paul is a Brooklyn-ite who emigrated to the Left Coast ages and ages ago. He found his way to Santa Cruz and befriended the likes of builders such as Keith Bontrager (who also was building bikes and bits in his garage) and Salsa Cycle's Ross Schafer (with whom Paul plays music with as they are both insane musicians). When you look at the styles of their frame building, so much of their influence rubbed off on each other. Look at the rear triangles of a Rock Lobster and a Bontrager and you'll see what I mean.
Paul's reputation grew as his frames carried various known names to 'cross and track national
titles. In the late '90's, a 'boy' at the time, Mike Ahrens was nearing graduation from his university, and his thesis in his engineering program was a full suspension bike frame design. Mike did the engineering and he solicited Paul's help given his reputation to apply 'truth' to the design vis-a-vis materials, etc. Together they built what would later be called the "Pinch a Log" (see photo to the right). I also ran this FS rig for a while helping Mike dial in the characteristics. With Paul's guidance over the years and a helluva lot of engineering savvy on his own behalf, Mike has since gone on to create his own company, Ahrens Bicycles. I am absolutely looking forward to getting my Ahrens Revolver 29'er built up this spring!
While all this 'apprenticing' activity was going on at Paul's shop, another welding torch was burning bright right within the same space. Paul shared workspace in this small studio with another Santa Cruz artist: Rick Hunter. To see his bikes is to get a sense of retro-meets-modern-meets-funk. Rick's bikes are epic. His signature now is curvy top tubes as well as truly unique designs...but some things have remained the same such as his use of razor thin seat stays that shout out to Bontrager and Rock Lobster
designs of 'back in the day'. I'm not necessarily saying Paul rubbed off on Rick given the close proximity of their work stands...but I wonder of there was a bit of that apprenticing going on as well. In any event, Hunter frames get worked in the West Coast mud weekend in and out by folks wearing lycra....or in drag.
I'll be attempting to bring some of that NorCal mojo with me to za Motherland in a week's time to dip these frames in the Holy Mud Water. I hope the pilot can give these storied fames justice!

Monday, December 31, 2007 at 3:35PM
|
5 Comments